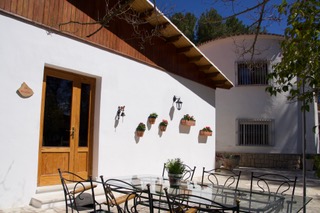 Rural House "La Finca Soñada"
Address: Partida Pla Roig, 15
Phone: 627 815 245
Modality: House Tourist rural accommodation.
Capacity: 14 places
Number of rooms: 4 (2 double rooms, 1 double luxury room or family room and a small house with 2 bedrooms, maximum of 6 people).
More information:
Facilities and services
All rooms have a private bathroom, television, heating and air conditioning. There are terraces, a tennis court, a swimming pool, spaces to rest, a barbecue and a playground for children.
Our facilities are adapted for people with disabilities.
Breakfast is included for all rooms, except for the cottage. The cottage has a full equipped kitchen. But of course you can book breakfast.
Rural House "La Finca Soñada"