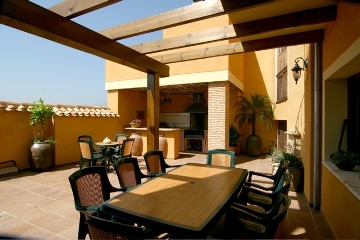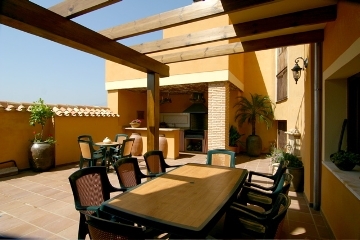 C / Virgen de la Luz, 23.
Phone: 654 01 21 43.
Modality: Rural House.
Capacity: 16 seats
Number of rooms: 7 (5 double rooms, 1 golf course with 2 places and another with 4 places).
Number of wc: 8.
More information:
Casa Simeón is an old family house dated in the middle of the 19th century, which was restored in 2007. The house, which is located in a quiet village, is set with period details that provide a cozy rural atmosphere.
Activities
The visitor can go hiking, climbing, guided tours, bicycle routes, horse riding, and also the municipal pool is two minutes away from the house. However, if the tourist prefers to make a cultural or gastronomic visit, you can visit many emblematic places and enjoy the typical gastronomy of the Comarca.
Facilities and services
The house is equipped with large facilities with central heating, television in each room, fireplace, barbecue, terrace, fully equipped kitchen and a spacious garage. The rooms are spacious and bright and for those looking for something more special, we have two separate attic with kitchen, fireplace and magnificent views to the mountains. Our facilities are adapted for people with disabilities.